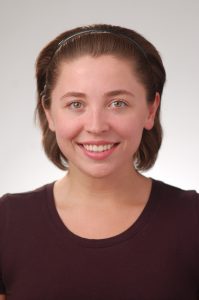 Anna is a rising fourth-year chemistry student at New College of Florida (NCF). After graduating in May 2019, she intends to pursue a PhD in chemistry. She is passionate about research and hopes to become a professor of organic chemistry.
Last summer, she participated in the NSF REU Interaction of Light with Matter at Florida State University. She worked with Dr. Zhu to produce fluorophores that result in white light emission from multiple emissions across the visible spectrum for electroluminescent-based lighting devices.
This summer, she is participating in the NSF REU In Chemical Sensing and Imaging at University of Maryland, Baltimore County. She is working on a collaborative project with Dr. Ptaszek and Dr. An synthesizing and characterizing a molecular rotor that will localize in the cytoplasm to be used to measure viscosity in live cells.
Anna is also interested in pharmaceutical research, which she discovered while working as a compounding pharmacy technician. In her free time, she enjoys reading, hiking, and swimming.