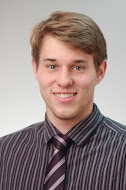 Michael is a chemical engineering major in the Jack, Joseph and Morton Honors College at Cleveland State University (CSU) in his hometown of Cleveland, Ohio. In addition to his pursuit of an engineering degree he is minoring in chemistry and (time permitting) double majoring in mathematics.  
At CSU, Michael is a teacher's assistant for both the general and organic chemistry instructional laboratories. His position in the chemistry department has left him responsible for 25-50 students each semester. He educates his students on laboratory safety, chemical theory and oversees the progression of laboratory experiments.
Michael's typical vacations are spent at Pioneer Athletics, a Cleveland based paint manufacturing facility, where he works alongside chemists to develop paints for athletic fields specifically designed to withstand long-term abuse. However, this summer Michael is part of the NSFREU program working in Dr. Arnolds physical chemistry laboratory at UMBC. His project explores the potential applications of deep-UV Raman Spectroscopy.
In his free time Michael is found outdoors. He enjoys cycling, hiking and exploring. He has a strong sense of family values; and as a result, he is typically found alongside his brothers and his niece and nephew.