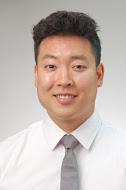 Hyo Park is a veteran of the United States Navy where he served as a ballistic missile 
defense computer technician and a search & rescue swimmer aboard the USS Lake Erie
(CG70).  He is part of the research experience for veterans program for The Center of
Sustainable Nanotechnology at UMBC from Chaminade University of Honolulu, where 
he is a rising junior, pursuing a major in Biochemistry and a minor in English.  At 
Chaminade, Hyo was a member of Michael Weichhaus, Ph.D. molecular and cellular 
biology research lab, where he studied the way cancer cells gain their metabolic energy in 
a gluconeogenesis inhibited environment.  This summer, Hyo is working in Professor 
Rosenzweig's laboratory on the stability of core shell quantum dots in various 
environmental conditions.
In Hyo's free time, he likes to enjoy the beautiful outdoors of Hawaii and go surfing, 
hiking, mountain climbing, and wake boarding.  He also volunteers at The Center for 
Aging at the VA to give back to the veteran community.  As a sophomore, he has been 
accepted into an early selection program at the George Washington University School of 
Medicine and Health Sciences to pursue his aspirations of becoming a physician that 
serves the needs of the underprivileged or underrepresented communities.