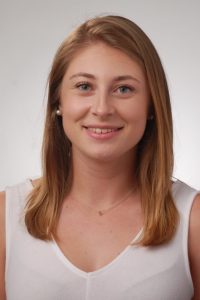 Lauren Skrajewski is a rising senior from Mickleton, New Jersey. She is currently a student at Clemson University in South Carolina and will graduate May 2019 with a B.S. in Chemistry.
Last summer, she worked at EMSL Analytical Company as a summer laboratory technician working with various asbestos samples. Last spring, she worked in Dr. Garcia's lab at Clemson researching how to optimize microfluid paper based analytical devices for blood coagulation. The primary goal is using specifically designed uPADs chips and to determine the most efficient path for blood to travel while studying the rate of coagulation with proteins in order to more quickly determine blood clotting abnormalities.
This summer, she is working in Dr. Cullum's lab at UMBC. She is expanding on previous work using thermally-induced optical reflection of sound (THORS) in tissue phantoms to manipulate acoustic waves in air. This method is used to investigate the phenomenon in gelatin using ultrasound and potentially providing new insights into deeper tissue penetration for biological imaging and detection. She will focus on using an optically induced depletion layer capable of greatly enhancing ultrasonic signals from deep tissues.
She hopes to attend graduate school next year in order to pursue a career in chemical research. Specifically, a career in analytical chemistry.
Lauren is extremely passionate about her research at UMBC. In her free time, she enjoys running, soccer, snowboarding, reading, and volunteering.