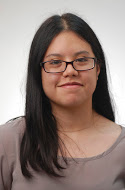 Elisa Castillo was born in Palo Alto, California but currently resides in Maryland. She is a student at Stevenson University and is a 2nd year chemistry major. At Stevenson, Elisa is involved in the American Chemical Society Club, The National Society of Leadership andSuccess, as well as the Commuter Student Association. She is also a current active licensed pharmacy technician. This summer Elisa is completing her first REU experience at UMBC. She
is working on a project in Dr. Kellys' lab that focuses on solvatochromic dyes that may enable one to probe phase changes in stimuli responsive polymers also known as "smart polymers." Stimuli responsive polymers are able to adapt to their surroundings, regulate the transport of ions/molecules, change certain properties (such as adhesion) of various species on external stimuli, and may also convert chemical/biochemical signals into optical, electrical and mechanical signals. Thus these polymers have a wide range of applications, one being drug delivery. 
Elisa hopes to attain her Pharm.D and work as a clinical pharmacist or be involved in pharmacology, the development/improvement of drugs and their mechanisms or actions. By currently working in her neighborhood pharmacy, Elisa has established her desire of being involved in the pharmaceutical field, from advising patients to studying drugs. For now, Elisa will focus on attaining admittance in to a pharmacy school in order to realize her goals.