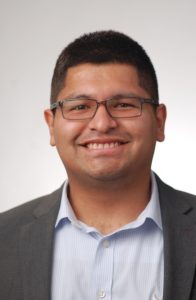 Miguel Gomez is originally from Lima, Peru, but has lived in the Queens borough of New York City, NY for over 20 years.  He is a recent graduate of the Applied Chemistry BS program at the New York City College of Technology (NYCCT).  At the NYCCT, Miguel worked as a college lab technician for the Chemistry department, where he prepared laboratory materials and equipment for undergraduate students enrolled in General and Organic Chemistry lab courses, and has assisted lab instructors during student-based laboratory experiments.
During his time at the NYCCT, Miguel held research positions under Dr. Alberto Martinez (Chemistry) and Dr. Mai Zahran (Biological Sciences).  With Dr. Martinez, using UV-Vis and Fluorescence spectroscopy techniques, he investigated and studied the properties of potential anti-Alzheimer's Disease multitarget compounds, including its transport interactions with Human Serum Albumin (HSA).  Working under Dr. Zahran, using molecular modeling techniques, he has determined potential docking sites of the multitarget compounds on HSA.  Miguel has also participated in the ReNUWIt Summer REU 2017 program, at the University of California-Berkeley campus, under the mentorship of Dr. David Sedlak. During this experience, he identified and quantified the presence of low-molecular-weight aldehydes in water samples from water treatment facilities, and monitored aldehyde molecular changes post UV/H2O2 treatments.  During this Summer of 2018, Miguel is working in Dr. Ptaszek's lab on the synthesis, self-assembly, and characterization of chlorin dimers, focusing on their potential light-harvesting and bioimaging applications.
In his free time, Miguel likes playing handball, jogging, and trying out new foods.  In terms of long-term plans, he is dedicated in becoming a medicinal chemist, with a specialization in diseases.  In terms of short-term plans, he intends to apply for a PhD program, focusing on research in the fields of medicinal and organic chemistry. However, prior to applying, Miguel has been accepted and plans to conduct drug transport research as a post-bacc in Dr. Martin J. Schnermann's lab at the National Cancer Institute, where he will be working on the development of new imaging and drug delivery approaches.