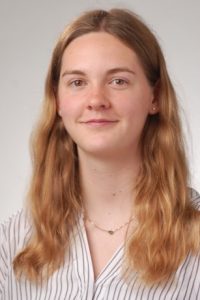 Renee Suzich is a rising junior at St. Mary's College of Maryland where she majors in biology, minors in economics, and takes a lot of chemistry classes.  She first became involved in research at St. Mary's as a member of the Malisch lab studying the avian stress response last fall, and in the spring began working on a project dealing with the drug loading efficiency of PLGA nanoparticles in Dr. Townsend's lab.
This summer, Renee is working in Dr. Daniel's lab with PPI (polypropylene imine) dendron coated gold nanoparticles, attempting to determine in what ratio two types of these dendrons are adsorbed onto the surface of the particles.  She has been developing a method to separate the dendrons using high-performance liquid chromatography and will soon aim to improve their UV-Vis detection.
Renee has interests ranging from plant science and nanotechnology to analytical chemistry and economics.  After graduating from St. Mary's, she plans to work to gain additional experience and narrow down these interests before returning to graduate school for a degree in biochemistry or a related field.  While not in lab, Renee enjoys swimming, hiking, cooking, and playing on the St. Mary's Women's Rugby team.