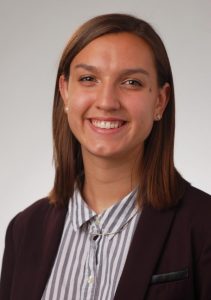 Leslie Scheurer was raised in small town Seymour, Wisconsin and now attends the University of Wisconsin- La Crosse. She is a rising senior pursuing a B.S. in Chemistry and a minor in Criminal Justice. She hopes to earn her Ph.D. and continue to do research to further the field of forensic chemistry.
At the University of Wisconsin- La Crosse, Leslie works in Dr. Kristofer Rolfhus' clean laboratory tracking total mercury and methylmercury levels in the St. Louis River estuary and Mississippi River. Even at very low concentrations, methylmercury is toxic to humans and wildlife. The team uses atomic fluorescence to accurately quantify levels in the parts per billion range.
This summer, Leslie is working with Dr. Arnold on deep-UV standoff raman spectroscopy. This technique has the potential to provide chemical signatures in less than a second without being exposed to or damaging the sample.
In her free time, Leslie enjoys watching and playing sports. Specifically, she loves the Green Bay Packers and playing soccer on the University of Wisconsin- La Crosse women's club team. She can also often be found in the kitchen eating or baking desserts