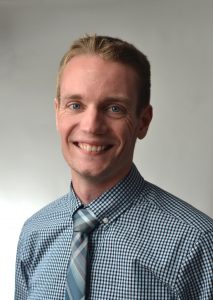 Luke Monroe is originally from Kansas City, Missouri.  After serving five years in the Marine Corps as an Arabic linguist, he decided to pursue a B.S. degree in Chemistry with a minor in Mathematics at Towson University.
At Towson, Luke works with Dr. Shannon Stitzel in developing a method for classifying province of origin of cocoa samples based on the cocoa's chemical and elemental signatures. Prior to starting at UMBC, Luke interned at Taylor Technologies inc. for a year where he helped develop water test strips for biguanide and test kits for borate to be used in industrial applications. This summer, with the NSF REU, Luke is working with Prof. Ptaszek on the synthesis and characterization of chlorins and bacteriochlorins and examining their potential for application in photodynamic therapy and as fluorescent biomarkers.
In his free time, Luke appreciates reading history, hiking, spending time with family, and the occasional baking of delicious cookies and breads. After graduating in May of 2018, Luke intends to pursue a PhD degree in chemistry.