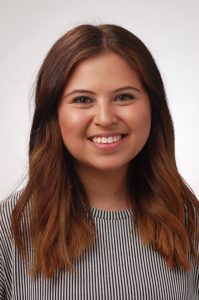 Julia Miller is a rising college senior from Ellicott City, Maryland. She currently attends Salisbury University and is pursuing an ACS-Certified B.S. Degree in Chemistry with a pre-pharmacy track.
At Salisbury, Julia is part of the first ever cohort of Undergraduate Research Fellows at the university, and is head lab assistant for general chemistry. She has conducted research in organic chemistry research for the past 2 years focusing on a more efficient, cost effective synthesis of an anti-migraine drug.
This summer Julia is excited to participate in the NSF-REU program at UMBC, conducting bioinorganic research in Dr. Smith's laboratory. In this lab, she will study ferrous iron transport, and work to optimize the purification of Porphyromonas gingivalis NFeoAB. Due to the fact that little is known about ferrous iron transport, it is important to understand the mechanism as a potential way to combat antibiotic resistance.
In the future, she hopes to attend pharmacy school, and continue research with pharmaceuticals in hopes of making a contribution to medicine.
In her free time, Julia enjoys reading, watching sports, such as hockey and football, and traveling. So far she has studied abroad in Italy, and would love a chance to travel again to immerse herself in other cultures.