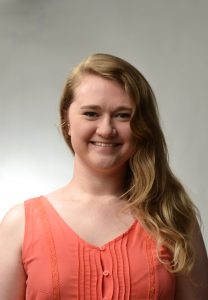 Meghan Dands is originally from Annapolis, Maryland and recently graduated from Virginia Tech with a B.S. in Chemical Engineering.  At Virginia Tech, she was a research assistant in Dr. Richard Gandour's organic chemistry lab for multiple years.  During her time in Dr. Gandour's lab, she focused on the mesylation of trityl-PEG in a scheme of organic reactions to produce coated nanoparticles for therapeutic drug delivery. She also performed separations of various PEG molecules into pure oligomers by use of column chromatography.
During the Summer of 2014, she worked in Dr. Rosenzweig's lab as a part of the Summer Biomedical Training Program.  She investigated the binding interactions between gold nanoparticles and RNA. Her project involved synthesizing gold nanoparticles with properties that are ideal for RNA imaging that would ultimately be bound to RNA using the streptavidin-biotin conjugation system. The next summer, she continued to work in the Rosenzweig lab on a project that involved synthesizing gold nanorods of various sizes and aspect ratios.  This summer at UMBC, Meghan is working in Dr. Rosenzweig's lab on the synthesis, characterization, and environmental impact of cadmium telluride quantum dots.
In her free time, Meghan likes to hike, travel, play soccer, go skiing, listen to the Beatles, and spend time with her cat Quinn. Meghan aspires to enhance human health through research aimed at disease prevention and management. She is open to attending graduate school in the future, but currently hopes to obtain a research position so she can perform or contribute to advances in the biotechnology and bio-pharmaceutical field.