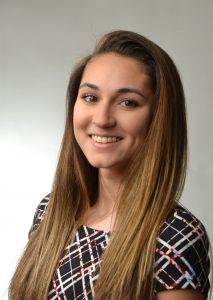 Lucia Rodriguez is a rising junior from Silver Spring, Maryland.  She is currently attending Winthrop University in South Carolina and is pursuing a Chemistry B.S. Degree with a minor in Mathematics.
Lucia is excited to participate in the NSF REU program at UMBC as her first research opportunity.  This summer, she will be working in Dr. Kelly's laboratory on solvatochromic naphthalene imides.  When attached to stimuli responsive polymers, specifically temperature-sensitive nanogels, these solvatochromic dyes can be used to detect phase changes in the polymer.
In the future, she hopes to attend graduate school in order to pursue a career in chemical research. While she is currently interested in organic chemistry, she hopes to learn more in her time at UMBC about what type of research she would like to pursue.
In her free time, Lucia loves to listen to a variety of music and attend live concerts. Her favorite activity is going to a music festival, listening to mainly electronic/EDM music. She also enjoys traveling, painting, cooking, and spending time with her family and friends.